Best Home Studio Mic Review – Top Rated Models in 2022 with Buying Guide
Whether you're getting ready for your next big gig or it's just simple practice the one that calls for the best home studio mic, you've come to the right place. Our team of researchers has examined some of the most appreciated products available for sale as well as home studio mic reviews and concluded that the first product to consider is the Audio-Technica AT2035. The unit is designed for both studio and live performances and comes with specs that improve the isolation of the sound source. It provides excellent versatility and promises to deliver a natural sound and reduce noise. If this item is out of stock, you might want to try the Shure SM7B.
Comparison Table
9 Best Home Studio Mics (Reviews) in 2022
The market is generous when it comes to both expensive and cheap home studio mics, which makes finding a good home studio mic a challenging task. To simplify your shopping, we have reviewed below some of the products that have gathered the best feedback from customers who tried them.
1. Audio-Technica 20 Series AT2035 Cardioid Condenser Microphone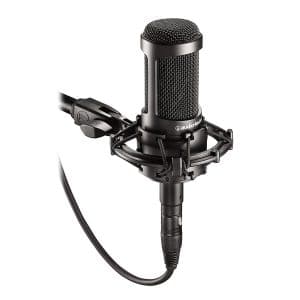 Up your sonic game and get that natural sound and the lowest noise possible with this side-address cardioid studio condenser from Audio-Technica. Created for various applications including professional and home studio sessions, this model should not go unchecked before you make your decision.
Committed to delivering excellent details yet a low noise, the unit sports a 10 dB pad and a switchable 80 Hz high-pass filter, which means the item will handle high sound pressure levels easily. Thanks to the large diaphragm, you will get to enjoy a smooth sound and minimize noise. Moreover, the custom shock mount will deliver superior isolation.
Due to the wide dynamic range and the high-SPL handling, the unit offers enhanced versatility. You can thus use it for podcasting, streaming, and studio applications. The cardioid polar pattern will improve the isolation of the desired sound source. The rugged construction ensures durability and the item also comes with a protective pouch.
Buy from Amazon.com
2. Shure 55SH Series II Dynamic Microphone
Another option you might want to try when looking for a quality home studio mic is this model from Shure. Designed for professional music and speech applications, this unit comes with specs that are committed to getting you that sound quality you're interested in.
The wide-range frequency response ensures a natural and clean reproduction of speech and music alike. The item is optimized for shielding against broadband interference computer monitors and other electrical devices emit. This means reduced electromagnetic hum. What's more, the pop filter featured will eliminate the need for extra protection against unwanted breath sounds.
The specs it boasts will get you a warmer tone for narration and close-up vocals. The cardioid polar pattern ensures minimum coloration of the off-axis sound. The rugged construction will help you use this product for extended sessions. The unit comes with a locking yoke mount, a close-talk windscreen, and a foam windscreen.
Buy from Amazon.com
3. Behringer XM1800S Ultravoice Dynamic Microphone
Promising to help you capture the sound you produce in brilliant resolution, this model from Behringer is another mic you might want to add to your list of options. Thanks to the features it comes with, you will get to use it for both studio and live performances.
Due to the ultra-wide frequency response, the user enjoys a transparent sound whereas the cardioid characteristic will minimize your background noise. This is further supported by the spherical wind and pop noise filter the unit sports. This dynamic microphone is ideal for recording amplified instruments and live performances.
It is resistant to moisture, robust, and will achieve high gain before feedback. The cardioid pattern will capture the source signals such as guitar amps or vocalists and shun off-axis sounds. The package includes three mics that will get you a clean sound and minimal distortion. The items feature an on/off switch for enhanced control.
Buy from Amazon.com
4. Samson Meteor Mic USB Studio Microphone
Designed with ease of use and versatility in mind, this product from Samson is another model worth considering if your home studio requires an upgrade. Delivering a rich audio recording for many applications, this mic comes with specs that have gathered positive feedback from the buyers who tried it.
It thus features one of the largest condenser diaphragms (25mm) available on USB mics, a 16-bit, 44.1/48kHz resolution, a smooth frequency response as well as a cardioid pickup pattern. All that translates into professional results whether you're recording acoustic guitars, speech, or vocals.
Enhanced control is ensured by the headphone volume knob and the stereo 1/8-inch headphone output featured. The mic stand adapter will enable you to mount the Meteor USB mic on a desktop stand. It is also ideal for iChat, Skype, and voice recognition software. The legs are adjustable so you can meet your various needs.
Buy from Amazon.com
5. Audio-Technica AT2020 Cardioid Condenser Microphone
This model is also worth considering if you're interested in getting a quality mic for your project and home studio applications. Featuring specs that won't just get you that natural sound you're interested in enjoying but also great versatility to meet your various needs, this unit from Audio-Technica comes with positive reviews from people who tried it.
A superior transient response and an extended frequency response are ensured by the custom-engineered low-mass diaphragm. The wide dynamic range and the high-SPL handling render this model ideal for many applications. The cardioid polar pattern will improve the isolation of the desired sound source by reducing the pickup of rear and side sounds.
The unit sports a rugged construction that ensures durability. Moreover, it comes with a stand mount, a soft protective pouch, and a 5/8″-27 to 3/8″-16 threaded adapter so you can use it right upon arrival. The mic features a stylish black speckle finish.
Buy from Amazon.com
6. Samson Sac01Upro USB Microphone
If you need to upgrade your home studio gear and a USB condenser mic is what you're interested in, you might want to give this model a try. The C01U Pro from Samson is suitable for a variety of applications including podcasting, vocal and instrument recording, speech to text platforms, and VoIP.
The unit sports a large, 19mm shock-mounted diaphragm that promises to capture low and high-end frequencies. Capable of capturing audio at 16-bit, 44.1/48kHz resolution, this item is committed to providing superior sound accuracy. Thanks to the plug-and-play operation, your recording experience will be improved and free of hassle as no drivers are required.
The product is compatible with most digital audio workstations. It even works with iPads and iPhones if you use the right adapter. The C01U Pro also features a headphone output to ensure zero-latency monitoring. The solid, die-cast build is made to last and keep up with extended sessions.
Buy from Amazon.com
7. Pyle-Pro PDMIC78 Dynamic Microphone
Whether you're recording on the stage or in the studio, this handheld mic is another model you might want to check out before making your final decision. Boasting specs that will make sure you minimize noise and capture only the sound you're interested, this unit is designed to up your sonic game and help you do so comfortably.
Thanks to the cardioid pickup pattern, the source signal is captured while the background noise is reduced. The product will also reproduce sounds without interference from other speakers or instruments on the stage or near you.
This dynamic mic is robust and resistant to moisture and promises to achieve high gain before feedback. This renders it ideal for recording amplified instruments as well as vocals. Sound transparency is ensured by the ultra-wide frequency response. The integrated pop filter and windscreen will minimize pop noise and breath sounds. The item comes with a 15 ft. XLR to 1/4" audio connection cable.
Buy from Amazon.com
8. Shure PGA48-XLR Cardioid Dynamic Vocal Microphone
If a superior sound reproduction is what you want to enjoy from your next mic, then you might want to give this model a try. Ideal for both speech and karaoke performances, the PGA48-XLR from Shure was designed to deliver enhanced sound accuracy and quality.
Unwanted noise is rejected and the sound source is captured thanks to the cardioid polar pattern. The user also gets to enjoy enhanced control and an easy operation thanks to the on/off switch featured. The unit comes with a stand adapter so you can mount it to a microphone stand.
The highly-durable design is committed to delivering great results even in rigorous environments. You will also get a zipper pouch to protect the microphone during transportation or when it is not used, a swivel adapter, and an XLR cable or QTR (1/4 ") cable. You can also go for the version that does not include a cable.
Buy from Amazon.com
9. Behringer C-1 Studio Condenser Microphone
Promising to deliver unsurpassed sound quality and accuracy, the C-1 from Behringer should also be part of your audio gear if reaching a superior experience is desired. The product was designed to capture acoustic instruments and vocals alike. Thanks to the wide, flat frequency response, this unit will capture details and can, thus, be used for studio and live performances.
The item sports a cardioid (heart-shaped) pattern that will pick up your source signal and reject off-axis sounds. Low-frequency distortion is eliminated thanks to the ultra-low noise, transformerless FET input. Superior signal integrity is ensured by the gold-plated 3-pin XLR output connector.
The rugged construction and the high-quality materials used deliver reliability and extended use. The unit comes with a swivel stand mount so you can easily mount it to your mic stand. You will also get a foam-padded carrying case to protect it during transportation or storage.
Buy from Amazon.com
Yearly Guide & Report
The quality of your sonic output and performance depends on a variety of factors, from the quality of the instrument you play to the studio recording microphones you use. If you need to upgrade your musical gear with the best home studio condenser mic for the money yet you're intimidated by the great offer of such items, there are some things that can be of great help.
Just like when you're looking for wireless karaoke microphones or overhead drum mics to enhance your audio performance, you need to focus on several key features to make sure you get the best condenser mic for home studio. We have highlighted them below.
Types of microphones
The endless assortment of mics available on today's market might overwhelm you, especially if you are a novice. To simplify your shopping, you need to consider the type of mic your needs require. You will find dynamic, condenser, ribbon, and USB microphones, each of the mentioned types being great at something and providing certain advantages and disadvantages.
The most common mics, though, fall into the first two categories: dynamic and condenser mics. Dynamic microphones are less sensitive to high frequencies and sound pressure levels and, thus, make great tools for electric guitars and drums, vocals, recording loud instruments, stage performances, and voiceovers.
Condenser mics have a greater response to the nuances and "speed" of sound waves than dynamic mics. If audio fidelity is what you're after, then you might want to opt for this mic type as it will capture the sound source faithfully. It is ideal for vocals, acoustic pianos, snare drums, acoustic guitars, orchestral recordings and instruments.
Ribbon mics come with a relatively flat frequency response and are known for producing a retro and warm sound. They are ideal for vocals, acoustic guitars, brass instruments, violins, woodwinds, electric guitar amps, and drum kit overheads.
Diaphragm size and weight
Another feature that will help you filter the many products available for sale is the size and weight of the diaphragm. Large-diaphragm condenser mics can be used to record almost anything from strings to vocals to percussion whereas dynamic mics that have a large diaphragm are a great option if you want to capture loud sources such as toms or kick drums.
Then if what you want from your mic is ultra-responsiveness, a smaller, lighter diaphragm is what you should look for. They are ideal for instruments with extended overtones and sharp transients such as acoustic guitars, harps, and hi-hats.
Polar patterns
You will see that mics are further classified according to the polar pattern they feature. Here you'll find several categories including the cardioid, supercardioid, omnidirectional, figure-8, and multiple types of patterns.
A mic with a cardioid polar pattern will "hear" best the sound produced in front of it and reject sounds that come from the rear and sides. If you don't want to capture room ambience and sounds, then this pattern might be just what you need. They are used for both studio and live applications.
Omnidirectional microphones, as their name suggests it, will detect sound equally from all directions. Therefore, you might want to consider them if you want to capture room sounds along with what you're recording. A figure-8 polar pattern is sensitive to front and back sounds. Such a pattern rejects sounds that come from sides.
The great thing is that many condenser mics come with switchable polar patterns. If you need to use the microphone for different applications, a multiple pattern model is thus desirable.
Durability and applications
The best way to find the right microphone is to think of the applications you need it for. Think of the instruments you will play and choose accordingly. A karaoke microphone won't get you the same results if you want to record instruments and not vocals. If you play only drums, then a drum mic kit is recommended, and so on.
In case you think there might be a chance for you to need the mic for outdoor events, too, and not only for your home studio recordings, you should also consider its resistance to moisture and general durability. Condenser microphones may suffer when exposed to extreme humidity changes.
Bibliography:
1) How does a microphone pick up sounds?
2) How Condenser Microphones Work
3) Types of Microphones for Home Studio Recording
4) Modern microphones and how they convert sound